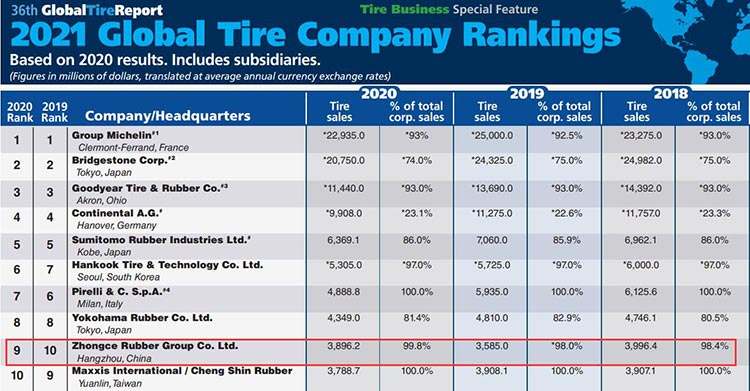 ZC Rubber (Zhongce Rubber Group Co., Ltd.) is ranking back ninth in 2021 global tire companies released by Tire Business, improving from the tenth place a year ago.

According to Tire Business's ranking based on the revenue, ZC Rubber's global sales in 2020 reached 3.8962 billion U.S. dollars, an increase of 8.7% year-on-year, making it the ninth largest tire manufacturer in the world. This achievement adds more significance as the company made historical result in both production capacity and economic performance through a difficult year highlighted by the challenges brought by the COVID-19 pandemic.
"We thank all partners and customers for overcoming difficulties and moving forward with us in the past year. We're confident to make more remarkable growth with all of you in 2021." the company stated.
In addition to ZC Rubber's place in the global ranking, the company also gained significant recognition in China's automotive industry. It has been one of the top 500 manufacturers in China, and ranked ninth among the Top 30 China auto parts industry companies in 2020. Meanwhile, ZC Rubber was selected by Zhejiang Province as one of the pilot company for the Future Factory project.