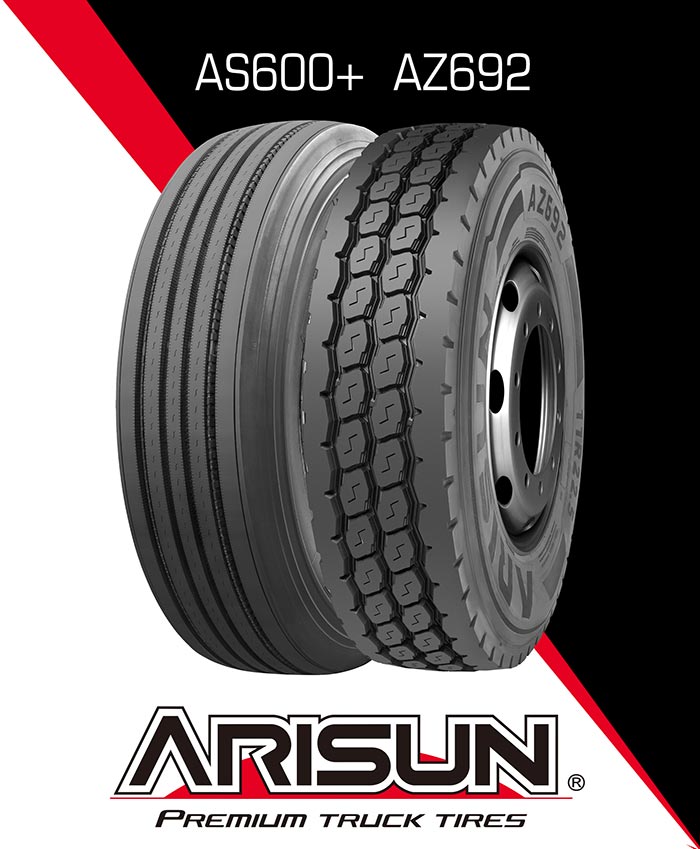 Arisun Tires is launching two new ultra-premium truck tires for the North American market: AS600+ for long haul and AZ692 for mixed service focusing on longer mileage, excellent handling, and superb fuel efficiency.
"We have worked closely with top universities in China to develop new design theories and the new products have made huge improvements in tire performance." Its parent company, ZC Rubber, said.
The Arisun AS600+ is designed for the steering and trailer axles on trucks as well as all round use on buses in long haul applications. Its wide tread profile promotes excellent stability while providing precise handling performance in all weather conditions. The four straight grooves ensure super fuel efficiency and drainage ability while its innovative side decoupling groove prevents uneven wear.
The Arisun AZ692 is an all position truck tire for mixed service, featuring a wide tread design and zigzag grooves. AZ692 is engineered to be more stable and durable while providing best-in-class traction and braking. Notably, its unique stone ejectors prevent sharp stones from lodging in grooves and penetrating the tire structure.
Both AS600+ and AZ692 will be warranted through three retreads for seven years.
For other Arisun truck tires, ZC Rubber extended the warranty up to six years with two retreads.
"It is yet another critical proof point of our confidence in the undisputed high end product quality." ZC Rubber states, "As our growth continues in the years ahead, we look forward to soon expanding commercial truck segment further and build a strong presence in North America."
For more information about Arisun Tires, please visit our official website: www.arisuntires.com