ZC Rubber Highlights High Technology and High Quality development at 2023 Distributor Conference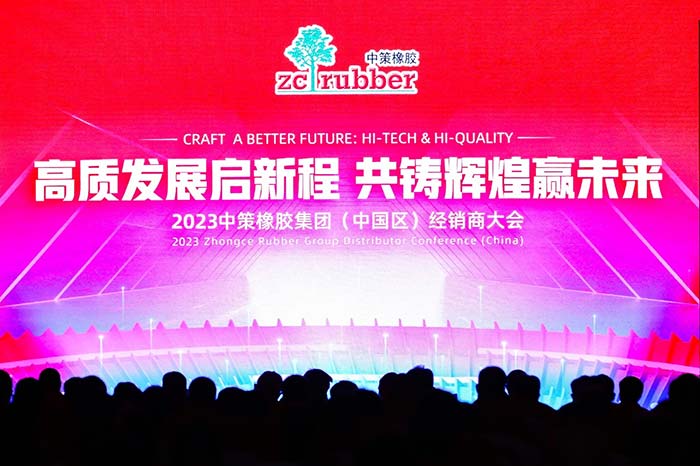 HANGZHOU - On Jan 31, 2023, ZC Rubber held its China Distributor Conference with the theme "Craft a Better Future: Hi-tech & Hi-quality", showcasing the achievements of 2022 and a vision for high-tech and high-quality development.
Overall Growth and Future Goals
Mr. Shen Jinrong, Chairman of ZC Rubber Group, highlighted the company's achievements in 2022 and its goals for 2023. According to Mr. Shen, 2022 was a noteworthy year for ZC Rubber since it witnessed the company's continuous growth despite the global economic downturn.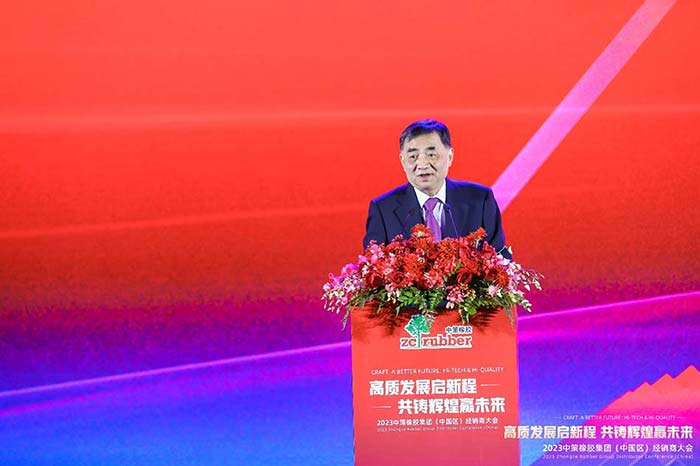 Mr. Shen Jinrong, Chairman of ZC Rubber Group
"Both our revenue and growth rate are on the rise. It is a remarkable achievement that encourages us to advance farther." Mr. Shen said. ZC Rubber was ranked Top 8 among global tire companies last year, moving up one spot from the year before.
The flagship passenger car tire lineup launched in both China and international markets (Westlake ZuperAce Z-007 and Goodride Solmax 1) was an immediate success with our customers from its launch. Based on the latest technology, the two tires have received TÜV Mark issued by TÜV SÜD and proven to be as high performance as some of the most renowned international brands. For bus and truck tires, ZC Rubber has also made every effort to keeping up with customers' increasingly dynamic needs from design and development to manufacturing.
The pursuit of products by ZC Rubber fuels the continued growth of China's tire manufacturing industry. The company has further encouraged quality improvement as it's been escalating smart manufacturing, especially in its newly-built Future Factory.
Mr. Shen also outlined the future plan of ZC Tianjin, "We intend to make ZC Tianjin one of the Top 3 non-highway tire plants in the world, the largest in Asia, and a green and ecologically friendly facility." ZC Tianjin is supporting the further expansion of ZC Rubber's product ranges and brand portfolio as its strategic non-highway tire production base. As of right now, ZC Rubber is the leading tire manufacturer in China with the broadest range of products.
"In the coming new year, ZC Rubber will embrace the brand enhancement strategy as a consistent corporate strategy. ZC Rubber will establish a frontier technology research center to support the R&D efforts while advancing digitization to improve product quality in support of this goal. We have the responsibility and ability to revitalize the Chinese tire industry." Mr. Shen said.
Commitment and Support for Customers
Mr. Ge Guorong, Senior Vice President of ZC Rubber Group, called on the ZC Rubber family to move firmly forward with the company's support in product research and development, supply chain, technical services and quality assurance to achieve high quality development.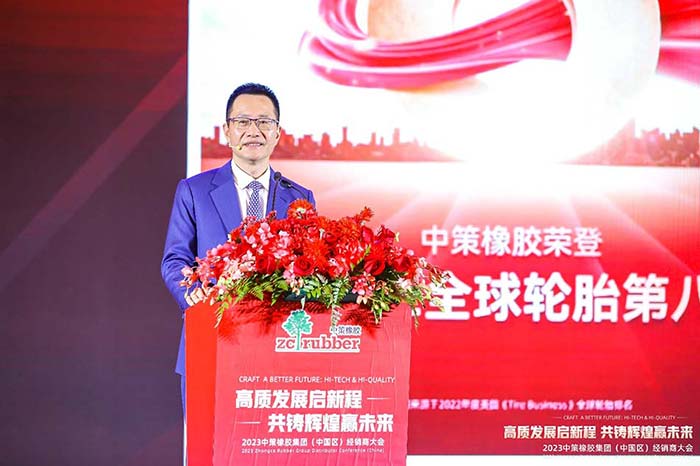 Mr. Ge Guorong, Senior Vice President of ZC Rubber Group
Product is the foundation of distributor business and the key to high quality development. According to Mr. Ge, three criteria will be prioritized in the creation of ZC Rubber's upcoming products: suitable application, stable quality, and various products. In addition to product upgrades, Mr. Ge pledged to enhance the supply chain and give distributors more effective channel support.
"Our world is rapidly changing. It is crucial for us to be open to changes, maintain growth based on technological development and keep innovating. The increasing fragmentation of channels forces us to rethink how we allocate resources. Hopefully our distributors and partners meet the challenges and changes head-on with us, take appropriate action in a timely manner, and provide more values to users." Mr. Ge said.
In 2023, ZC Rubber will strive to make greater success with customers and partners and craft a better future with high quality development.