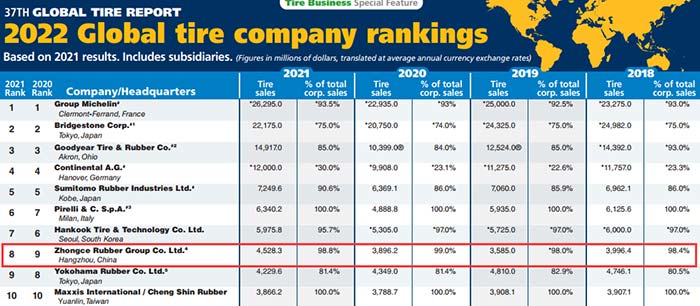 ZC Rubber (Zhongce Rubber Group Co. Ltd.), China's leading tire maker, is ranked Top 8 in 2022 global tire companies released by Tire Business, up one notch from a year earlier.

ZC Rubber witnessed rapid growth in 2021. According to Tire Business's ranking based on the revenue, ZC Rubber's global sales revenue in 2021 reached 4.5283 billion U.S. dollars, an increase of 16.2% year-on-year, making it the eighth largest tire manufacturer in the world.
"This is a new milestone for us. The level reached by ZC Rubber in the global ranking published by Tire Business reflects our constant effort in technological advances and remarkable recognition from the markets. We appreciate all of our global customers and partners for overcoming challenges and progressing with us over the last year. With their support, we are sure to achieve even greater success in 2022." Stated ZC Rubber.
In recent years, ZC Rubber continues to increase international sales revenue as a result of the development of global market and the expansion of its global sales network. The products of ZC Rubber have been sold to six continents, covering nearly 200 countries and regions, and have gained the popularity and recognition of consumers worldwide.
The growth relies on the company's investment in product innovation and quality upgrade. In 2022, ZC Rubber made a global debut for it new flagship passenger car tires, Westlake ZuperAce Z-007 and Goodride Solmax 1, both of which have received the German TÜV SÜD Test Mark that stands for very high quality and safety standards.
The company said it will focus on technology innovation and creating a sustainable competitive edge to provide global consumers with more safe and reliable experience.